Construction Permit
Requirement for construction in Spb and Leningrad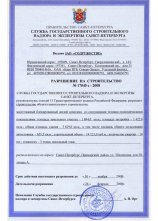 The following laboratory studies are required to obtain a construction permit:
Soil research:
- Soil chemistry (7 heavy metals, no (a)pyrene, oil products)
- Soil toxicological analysis (bio testing for toxicity class determination)
- microbiological soil analysis
- soil parasite analysis
Based on these studies, it is concluded that what needs to be done with the soil (export the upper ground, reclaim, etc.).
Measurement of noise, infrasound, vibration, EMI industrial frequency at the border of the site
All these protocols will require expert opinions.
The results of the studies are needed by designers to develop a project that will be agreed upon in the supervisory bodies.
Laboratory studies are also needed to assess the Territory for its suitability for construction, environmental and radiation safety. The results of the studies will continue to be compared with the same studies but obtained after construction. This is necessary to understand how construction has affected the site (whether the environmental and radiation situation has deteriorated). If studies show that construction has had a negative impact on the site, the amount of environmental damage will be determined.
Construction permit is available at GASN♪ A large package of documents is needed to obtain a building permit. The following are listed below: Key documents required to obtain construction permits:
Legal documents for the site
site planning
project documentation
Positive opinion on project documents received by the body of the State Expertise
An application for a construction permit is also submitted to the Ministry of Foreign Affairs. Once the documents are checked, construction permits are issued.
Related posts: