Executive Technical Documentation For Construction
Executive technical documentation for construction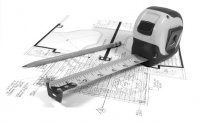 Status: Effective
Full title:
Executive technical documentation for building and construction. Guidebook
Scope: This manual contains a list of the executive technical documents issued during the construction and maintenance of buildings and structures, the rules of operation, and annexes containing the forms and examples of documentation. The manual is intended for engineering staff of construction and installation organizations and technical supervision specialists of the client. The training of construction specialists may be useful. INTRODUCTION
I. EXECUTIVE TECHNICAL DOCUMENTATION AND ITS OBSERVATION
1. General work log
2. Special work journals
3. Copyright Oversight Journal
4. Reception of the geodetic distribution framework
5. Executive geodetic schemes
6. Executive designs and profiles of engineering networks
7. Evidence of hidden work
8. Intermediate reception of responsible structures
9. Tests and testing of internal engineering systems and equipment
10. Inspection of thermal insulation of reservoirs
11. Thermal energy passport of the building
II EXECUTIVE TECHNOLOGY DOCUMENTATION
III. Arrangements for the reception and commissioning of completed construction facilities
1. Reception of completed construction
2. Procedure for the issuance of permits for the commissioning of facilities (art. 55)
Code of Civilization
Russian Federation)
IV. Conclusion
Literature
Document published: Construction Quality Centre No. 2005
Document approved: POB ' s " Quality Centre for Construction " ,
It's developed by the SPE of the building quality centre.
Download: To download the document free of charge
Other symbols: Manual/Executive Technical Documentation for Buildings and Facilities.
Related posts: