Samara Construction Department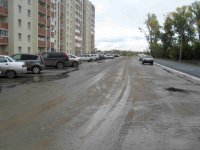 Use the filter
of results
in your interest.
Search
Category
Area
Launch
Year of addendum
All
National economy
Housing and utilities
Education
Culture, Quinematography
Health
Social policies
Physical culture and sport
37 facilities
Title:
(OCC - 013.00744) Inter-cart roads 3 and 4 blocks of the 2A residential area of Volgar. The Pacific Academy Street and the Pure Field Street.

Address:
Mr. "Wulgar."
details
Area: Kouibishev
Contractor:
Designer: Dedal GS
Custody: Department of Construction and Architecture. Samara
Entry Year: 2014
Title:
(OCC - 013.00749) Reconstruction of Lunacharski from the Novo Sad (Lenin Prospect) to the Moskov highway

Address:
October of Samara City District between Lenin and Moskov Highway
Area: October
Contractor: GIPRODORNIA Research and Research Institute
Designer: Saratov branch of the OAO " Harvest Research and Research Institute " GIPRODORNI "
Custody: Department of Construction and Architecture Oh. Samara
Year of entry into service: -
Title:
(OCC - 013.00750) Development of project design documents for the renovation of the field. Coptevia, from S. Lazo to IBU, Gorod Hospital No. 7, taking into account the movement of passenger transport, pedestrians and the installation of a public transport gateway
Address:
Samara region, Samara city, Krasnogli district, Ul. Koptev
Designer: Dedal GS
Custody: Department of Construction and Architecture. Samara
Year of entry into service: -
Title:
(OCC - 013.00751) Twenty-two parties from the street, solar to Kirova. Line 1 (from the solar to the Moscow highway) and line 2 (from Karl Marx to Stavropol)
Address:
Related posts: