New Building Technologies
Technology for the construction of fast-moving houses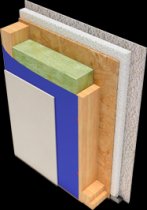 "Tyvek"
Membrane, TYVEKO - high-tech rolling materials designed for hydro-isolation, windscreens and wall and rolling roofs. TyvekW is made up of millions of microwaves that ensure the correct and equitable distribution of additives to protect against ultraviolet and thermal exposure, which ensures the high durability of properties throughout the material thickness. That is why TYVEKO materials have extensive experience of effective application in the field building houses on a wooden carcas. The high permissibility of TyvekW materials allows the residual moisture and other components of the design to pass freely into the ventilated space, which prevents the accumulation of condensate, the destruction of wood, and prevents the deterioration of thermal insulation. In carcasing-type walls, additional protection by means of Tyvekite is also of particular importance from wind pressure and airproofness.
IsoBox / Inside is 150 mm thick
The base conserver is a mineral material produced from the melting of mountain basaltace at a temperature of 1300-1400 °C, with the addition of hydrophobizing and connecting components. The material obtained has good strength and withstand the load. Base plates are not toxic, environmentally safe, classified as non-combustible materials. Under fire and high stove temperatures, mineral fibers do not smoke or emit toxic gases which are resistant to high temperatures of up to 600 °C. The base conserver is long, at least 70 years of service, resisting ultraviolet radiation, chemical and biological contamination. Plus, the base contour has excellent thermal insulation and soundproofing properties.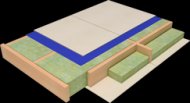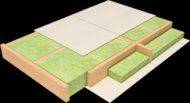 Смотрите информацию
vet clinic Dubai у нас на сайте
.
Related posts: